Ice-O-Matic vs Manitowoc Ice Machines: Which one is better?
There are way to many options out there when it comes to choosing a commercial ice machine, from half cubed, to shaved and from nugget to gourmet ice you have almost half a dozen choices just in the type of ice that a machine can produce. Each type of ice though has a specific purpose and it is important that you get the right type for your needs. Beyond just the types of ice you also have tons of options when it comes to the size of the machine, size of the bin, and type of cooling system that the ice machine uses. Our goal is to take the mystery out of choosing an ice machine by giving you all the info you need with our blog posts and our commercial ice machine buying guide. We also have created a comparison of two popular commercial ice machine manufacturers, Manitowoc and Ice-O-Matic.
Right now you can order any of these machines and receive free shipping, free lift gate service (if needed), and free residential delivery. All totaled that is well over $200.00 of savings. So get your ice on and check out one of these recommended commercial ice machines or if you need more options you can view all of our ice maker offerings.
Manufacturer Spotlight: Manitowoc
A trusted name and recognized leader in the ice making industry. Manitowoc has spread out its manufacturing power by producing the Q series cubers in China, while producing their S series cubers, I (Indigo) series cubers, and RN series nugget makers in the United States of America. The European Union gets in on the action by manufacturing Manitowoc's RF series flakers. Awarded the Energy Star partner of the year for 2010 and 2011, Manitowoc commercial ice machines won't break the bank when it comes to your electric bill. A forerunner in research and design of energy efficient commercial ice machines, Manitowoc demonstrates its commitment to responsible energy policies.
Manufacturer Spotlight: Ice-O-Matic
Made in the USA, Ice-O-Matic has been built upon American ingenuity. Ice-O-Matic stands behind its products with an excellent warranty policy extended through its Pure Ice Program which provides a 7 year warranty on the evaporator unit, the longest warranty in the industry. Pushing the envelope in design, Ice-O-Matic offers top venting ice machines which allows for the unit to be placed in tight spaces. Kicking out lots of cubed ice per day, built with anti microbial components, reliably engineered, and offered at an attractive price point, Ice-O-Matic commercial ice makers will provide quality ice at an affordable price for years to come.
$2,277.00 with FREE Shipping
This
560 lbs per day Manitowoc Ice Machine
reliably kicks out ice every day. The half
cubed ice machine
is the perfect option for high traffic restaurants. Half cubed ice is a favorite for restaurants looking to improve profit margins by cutting down on the throw away waste of expensive product. Half cubed ice machines help you in this endeavor as you can fit more ice in a cup and consequently do not have to put as much product in each cup. With its energy star rating, this unit won't rack up your electric bill either. And with an output of 560 lbs of ice per day and the proper size ice bin, you can be prepared to handle that Friday evening rush.
$1,780.00 with FREE Shipping
The space conscientious kitchen will love this
Manitowoc undercounter ice machine with bin
as its small footprint, and self contained half cubed ice maker and bin combination work hand in hand to give you high quality ice without taking up half of your kitchen. Only 38.5 inches tall, yet housing a spacious 80 lb capacity bin, what this unit gives up in output it makes up for in convenience. Combined with its low price point and solid dependability, it is an attractive offering for smaller kitchens.
$2,116.56 with FREE Shipping
A new and improved design, the
Ice-O-Matic top venting 500T series ice makers
conserve space by allowing you to fit it into tight spaces without reducing efficiency. By designing this
commercial ice machine
to ventilate from the top instead of from the sides, Ice-O-Matic made it possible for an ice machine to boldly go where no ice machine has gone before. Putting out almost 600 lbs of ice per day, this workhorse is a great option for larger restaurants and shops where half cubed or full cubed ice is a must. Reliable, high output, quality ice, backed by a 7 year evaporator warranty when partaking in the Pure Ice Program, and using anti microbial materials, you can take joy in quality ice for years to come. Don't forget to buy an ice bin to go along with it.
$1,909.99 with FREE Shipping
This
Ice-O-Matic undercounter ice machine with bin
pulls no punches when it comes to style and usability. Weighing in at just about an inch taller than the Manitowoc offering yet it has a 73 lb capacity bin. The 7 year warranty on the evaporator when participating in the Pure Ice Program demonstrates the confidence that Ice-O-Matic has in their product. Designed with anti microbial materials to help mitigate slime and bacteria growth, Ice-O-Matic has incorporated technology that will ensure the output of quality ice for years to come. Made in the USA this half cubed ice machine is an enticing option for smaller kitchens and lower traffic restaurants.
The satisfying crunch of ice
There are a lot of addictions in the world, but one of the more harmless (although a dentist might disagree) is the satisfaction that some people enjoy from munching on ice. But whether you are addicted to tooth decay from continual ice chewing, would like some cubed ice to plop in your sweet tea on a hot summer day, or need a commercial ice machine that can churn out a lot of ice in a short time for that fishing expedition you are going on, we believe that we have the perfect commercial ice machine for sale that will meet your unique needs.
Take a peak at our Commercial Ice Machine Comparison Chart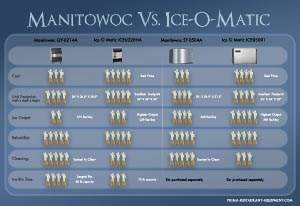 View at full size
Blog Articles:
Still not sure what commercial ice machine is best for you?
You are in luck, we are putting together a great lineup of blog articles which will walk you through the buying process and help you figure out exactly what you need.
Commercial Ice Machines - What do I need?
We often get asked this question, in one form or another. The answer of will depend on a number of factors such as:
Where will it be used?
How will it be used? i.e. in a restaurant, concession stand, or some other use?
Do you have a specific brand in mind?
Base on your answers, we can whittle down your options to find the best machine to meet your needs. Here are a few options:
Full Cube Ice Maker vs a Half Cube Ice Maker
The size and style of the ice your commercial machine puts out is an important consideration and will be affected by your particular needs. Broadly speaking, a full cube ice machine is a good choice for those who will be putting ice into a cooler. So for those wanting to keep drinks or food cold a full cube will be the best choice as it will take longer to melt. Those who love to fish will want to opt for a full cubed ice maker as it will keep the fish from spoiling during those long days out on the lake. Restaurants on the other hand will probably want to go with a half cube ice machine as you can fit more ice in the cup thus displacing more product which reduces waste and cost (the more ice that goes into a cup, the smaller amount of liquid will fit). So restaurants, concession stands, and the like, who sell a lot of drinks should look at our half cube ice makers.
Disqus - noscript
There was trouble loading the comments.